The Life of a Shopping Bag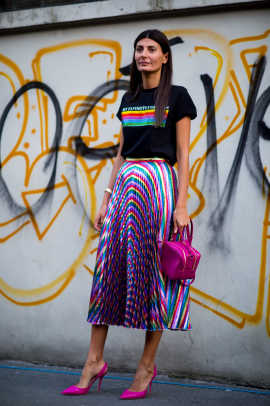 Jean is an environmentally-conscious young mother who wants to do the most she can to stay green. Today, when Jean went grocery shopping, she decided to say no to plastic bags and buy a sturdy, durable tote bag instead. She was surprised to see that her whole grocery used only two bags, and that they fit comfortably on her shoulders. No more cut circulation in her fingers from plastic bag handles!
When Jean bought her bag, she had a choice between several beautiful designs. She chose a beautiful floral design that suited her taste. All bags had the logo of her grocery store, which constantly reminded her to return to that one instead of others in her neighbourhood. In between trips at the grocery store, she keeps them nicely folded and stored in a kitchen drawer that used to be fulled of crumpled plastic bags that accumulated until there was no space left. She can now easily fit four folded reusable shopping bags, and they don't pile up.
Jean's bags are made of thick plastic that makes them easier to clean after a grocery shop. She just sprays some anti-bacterial cleaner and wipes them off with a wet cloth. It might seem like a silly thing to do, but with constant use, bacteria can build up and contaminate her food. So, every week before she stores them in her drawer, Jean cleans them up to make sure that her food is safe next week. She believes it's a small price to pay to be greener.
Jean knows that making these bags takes more energy than making traditional paper or plastic bags, but she also knows that in the end, after using her bags for years, the difference in the pollution produced by throwing away plastic bags will compensate. She likes her bags so much that now she never leaves the house without one; she even bought a designer reusable bag that fits in her purse, so she is never caught without one when an impromptu shopping trip comes up. She also keeps a bigger bag in her car, just in case she has to stop by the grocery store after work and doesn't want to go home first.
Of course, Jean knows that accumulating reusable shopping bags can be as bad as accumulating plastic bags, so she doesn't buy one from every store she visits. Since she always has one handy, there is no need to get a bag from the clothing store, one from the shoe store and one from the cosmetics store. She makes sure to use the bags she has, and doesn't throw them out unless they are really unusable. A good, sturdy plastic bag can last her two years, even more if she rotates them with other bags every week. She's had one in her collection for five years!
Every time Jean uses one of these bags, she feels like she is helping the planet by avoiding pollution through too many white plastic bags. Besides, they were getting so thin and fragile that they broke all the time, and she had to double them up. When she needs to get rid of one of her reusable bags, she makes sure that they get recycled into new tote bags. Along with walking more, taking public transportation and using products with less packaging, using reusable shopping bags makes Jean proud, because she is making practical steps to help the environment.